Preparing the healthcare employees of tomorrow
Innovate
Inspire
Collaborate
We are excited and proud to have been the first UTC in the UK with healthcare and health sciences as its specialism, offering learning and career opportunities like no other.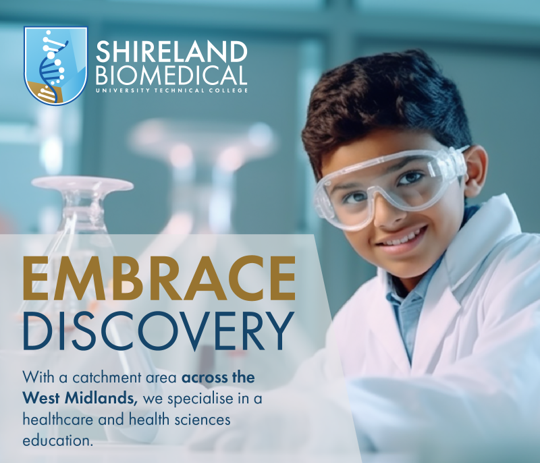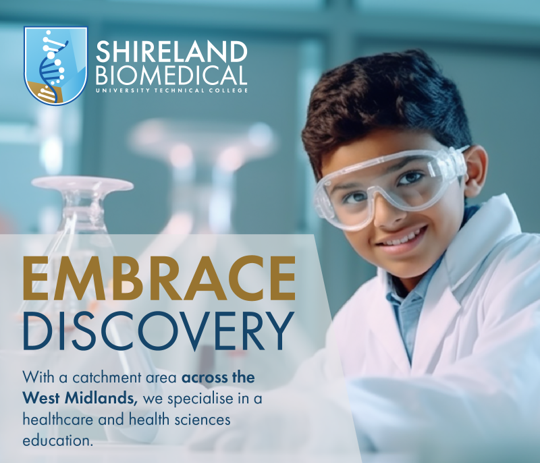 Preparing students for careers in the health care and health sciences sector
An outstanding education for young people
We are partnered with a huge range of employers who lend their expertise, facilities and time to make sure our students are best placed to be their future employees. This, allied with our state-of-the-art facilities, makes Shireland Biomedical UTC an essential choice for any young person interested in a career in this high skill, high demand and high employment sector of the economy.
Why choose Shireland Biomedical UTC?
Learn through our highly-regarded thematic Key Stage 3 curriculum, Literacy for Life.
Students have their own Microsoft device for use in school.
Network of local partners giving students unique learning experiences and employment opportunities.
State-of-the-art facilities including a mock hospital ward and immersive room.
News
In the heart of our community lies a hub of learning, and now, an open invitation extends beyond our classroom walls. Our school facilities, including
Read More »
News
News
We're thrilled to announce that we have expanded our range of A level and BTEC courses to provide an even wider range of options for
Read More »
Part of Shireland Collegiate Academy Trust
We believe that every person who passes through our doors deserves the very best that we can offer. We understand that each Academy is unique, but our emphasis and expectations will remain the same. 
Nothing less than Outstanding is acceptable.